Background:
(May contain spoilers)
Asuna grew up in the higher end class of families in terms of financial success. Her father owned a big tech company called RECT Inc. which provided more than enough for his family. She grew up in Setagaya, Japan and only attended private and top notch schools throughout her academic career. It wasn't until after the events of SAO that she decided to transfer into the public school system – a move she made to be closer to Kirito.

Growing up she was never much of a gamer but enjoyed playing them from time to time. Her brother was always big into gaming and was the one that ultimately introduced her to VR. When the SAO servers opened up her brother was away on business and couldn't attend the opening, in his place Asuna borrowed his NerveGear, logging into the world of Sword Art Online. The NerveGear is a device that induces the player in a coma-like state, sending "fake signals" to the brain that mimic senses in order for players to FullDive into a virtual realm and have overall control of their virtual bodies.
Upon entering the world of SAO, Asuna became trapped in the online game just like hundreds of other players who logged in on opening day. They were then forced to play the game until it was completed. The only condition being that if they die in the game they die in the real world.

After acknowledging that she was trapped in a video game it took Asuna nearly a week to accept her fate and begin actively trying to survive. Her determination allowed her to level up quickly and achieve high ranks. In the end of it all Asuna and Kirito both worked together to beat SAO and save the thousands of players who were trapped in the virtual world.
Appearance:
Miss Yuuki is shown having kind, light-brown eyes with shimmering-caramel hair that extends far down her back. Her hair is displayed in a French braided tie-back, with some bangs left to hang free on either side of her face.


Her body type is quite slim but sustains an athletic base. She is quite physically fit and active in real life which translates well into her in-game persona.
When not in her real world clothes, Asuna can be seen baring different clothing styles based on whichever game she is playing.
Abilities:
Asuna has no extraordinary abilities in the "real world" – however in the virtual world she is an exceptionally well vetted combatant and sword wielder.

She has mastered the movement and battle techniques of SOA and other games and has even broken the line between computer and human will. An example of this is when Kirito was fighting Heathcliff on the 75th floor and she resisted her paralysis to jump in front of Kirito and save his life.
Her collected stats in SAO are as follows:


(Collected from Sword Art Online Wika)

(Collected from Sword Art Online Wika)
Why We Chose Her:
One of the main reasons why we wanted to highlight Asuna is for her heart. Throughout her time in SAO we get to see Asuna interact with many different players and how those bonds were built. For those she deemed worthy, she made true heart-felt connections that established a relationship, a connection that Asuna takes very seriously. A great example of this behavior is her connection with Kirito (main character).
Through her strong willed heart she chooses her own path even when the odds are against her. Asuna's tenacious attitude and motivation to persevere in life is displayed fully in every episode.  She enjoys caring for others and takes full ownership of her responsibilities.
Although she is very kind hearted, she will never stand idly by while people take advantage of her attributes. She'll fearlessly oppose even the strongest of foes and has been known to completely take actions into her own hands without back up.
Asuna is always ready to solve an issue with a physical bout. She is internally strong, and should be praised for her amazing triumphs and kind soul.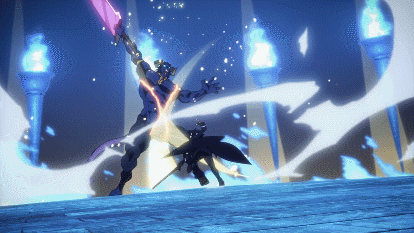 Quotes:
"Sometimes the things that matter the most are right in front of you."
"Life isn't just doing things for yourself. It's possible to live in such a way that other people's happiness, makes you happy too."